© your very own website built with WebStarts.com

I Filmmaker International Film Festival created by MakingNoizeFilms is an event organized by filmmakers, for filmmakers. We want to showcase your films, promote them and give you the attention that you deserve. We know how hard the process is from the moment you have a good idea for a script to the final stages of post-production and finding distribution for your project, that´s why our team will concentrate their energy in getting our official selection and winners a huge exposure in social media, tv and written press. We accept all kinds of digital projects with no limit of theme, length and genre. Your imagination and creation is free and so is our event! We will have recognized names from the industry and celebrities attending our festival and it´s an excellent opportunity to Network and let your art be seen. Our event takes place in the amazing city of Marbella, (Spain), one of the most touristic places in Europe! We guarantee if you are part of our festival you will have the time of your life, you will make great connections within the film industry and have fun in the process!
I Filmmaker International Film Festival, creado por MakingNoizeFilms, es un evento organizado por filmmakers, para filmmakers. Nuestra intención es hacer una muestra de películas y cortometrajes, promocionar tus proyectos y prestarte la atención que mereces. Sabemos lo duro que es el proceso de crear una película o cortometraje, desde el momento en el que se te ocurre una buena ide, hasta los pasos finales de post-producción y distribución de tu proyecto, es por ello que nuestro equipo se esforzará para que nuestra selección oficial, nominados y galardonados tengan la promoción necesaria en las redes sociales, tv y prensa escrita. Aceptamos todo tipo de proyectos digitales sin límite temático, de tiempo o género. Tu imaginación y creatividad son libres, así como tambien lo es nuestro festival. Contaremos con la asistencia a nuestro evento de grandes actores, directores y guionistas, convirtiendo este festival en una excelente ocasión para dar a conocer tu trabajo.El evento tendrá lugar en la fantástica tierra de Marbella, (Malaga), España, uno de los más bellos destinos turisticos europeos.Te garantizamos que si formas parte de nuestro festival lo pasaras en grande, harás negocios divirtiendote en el proceso.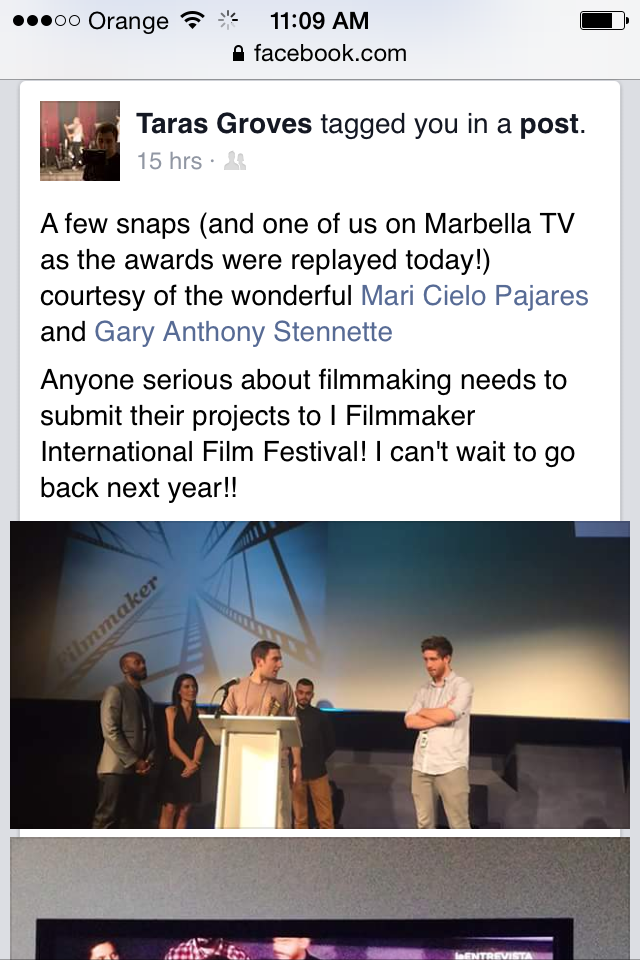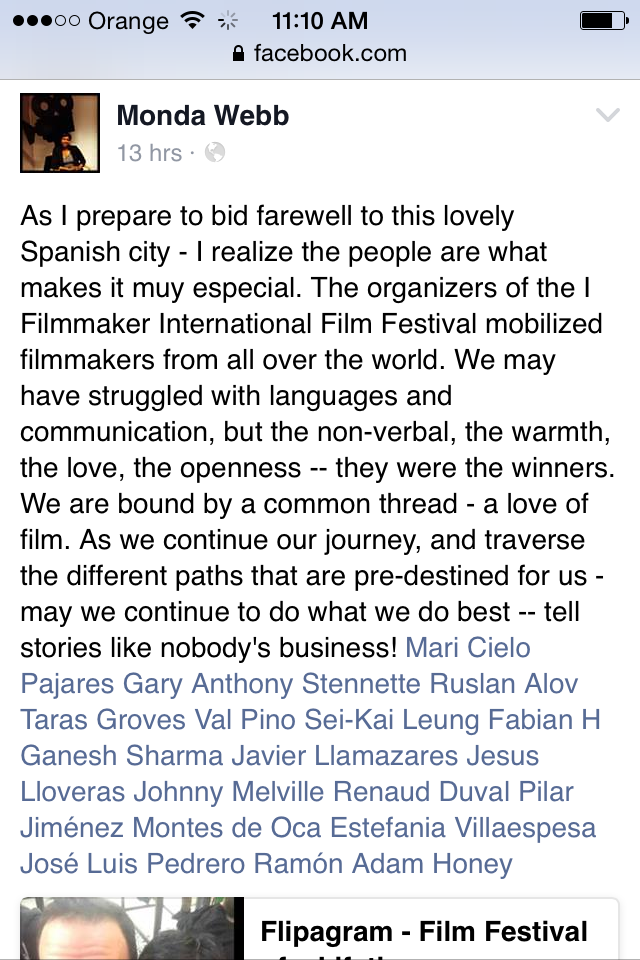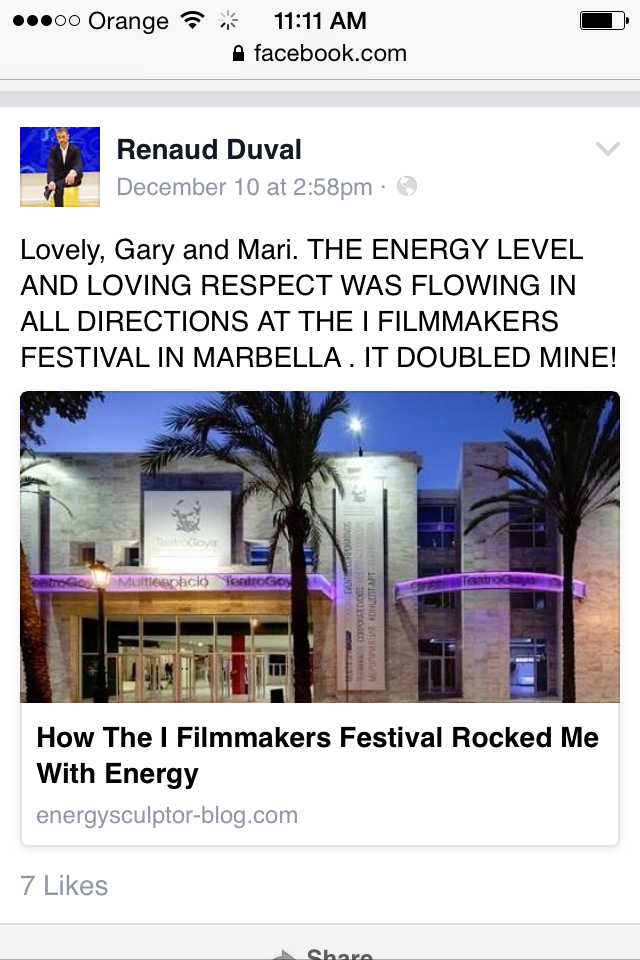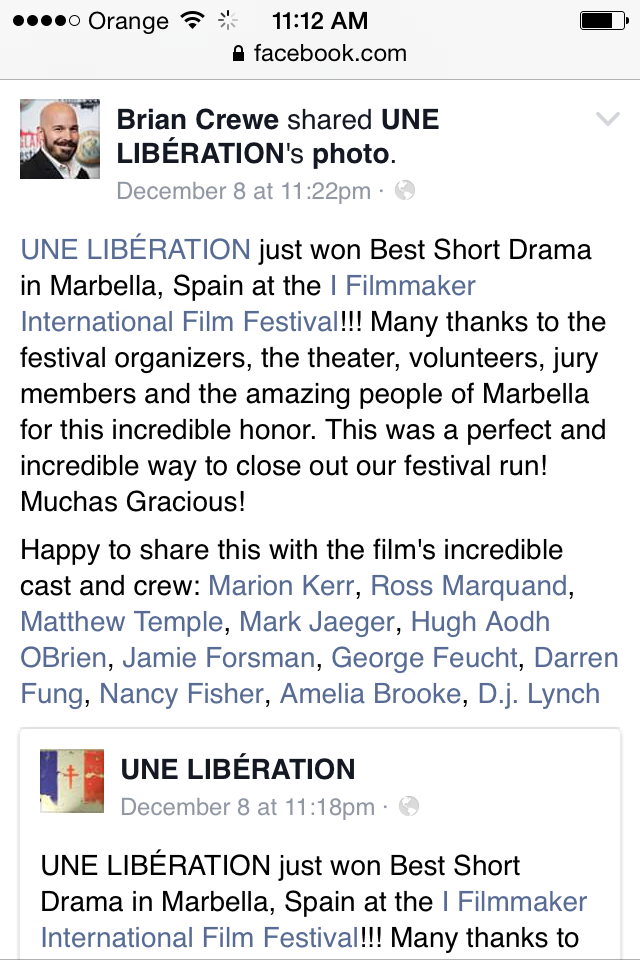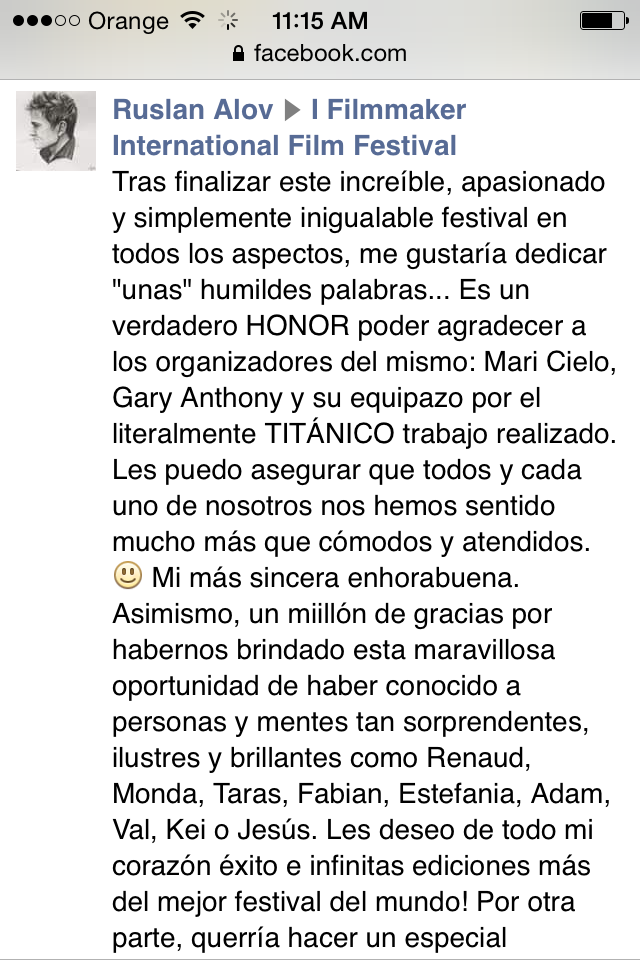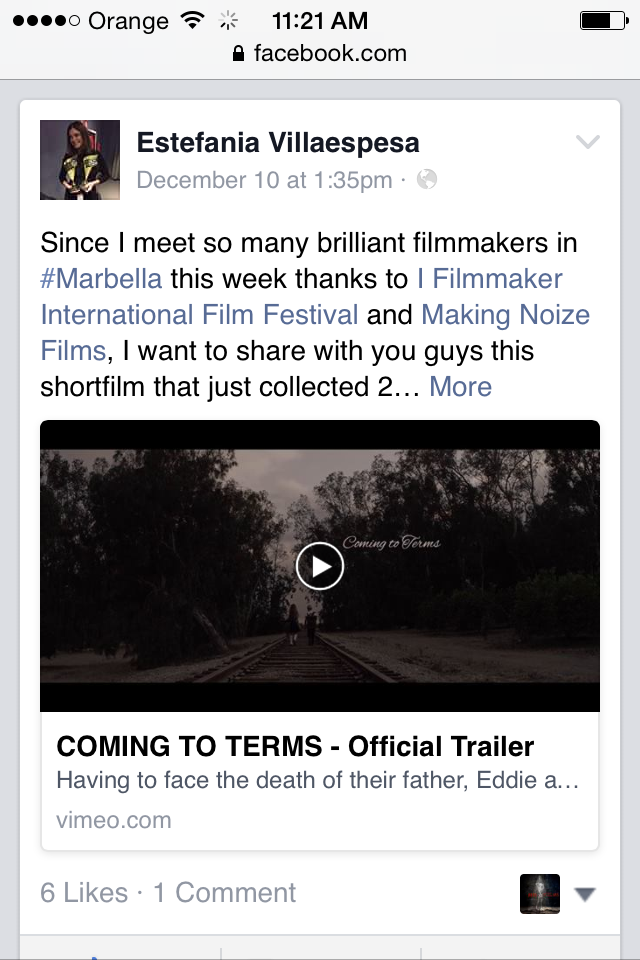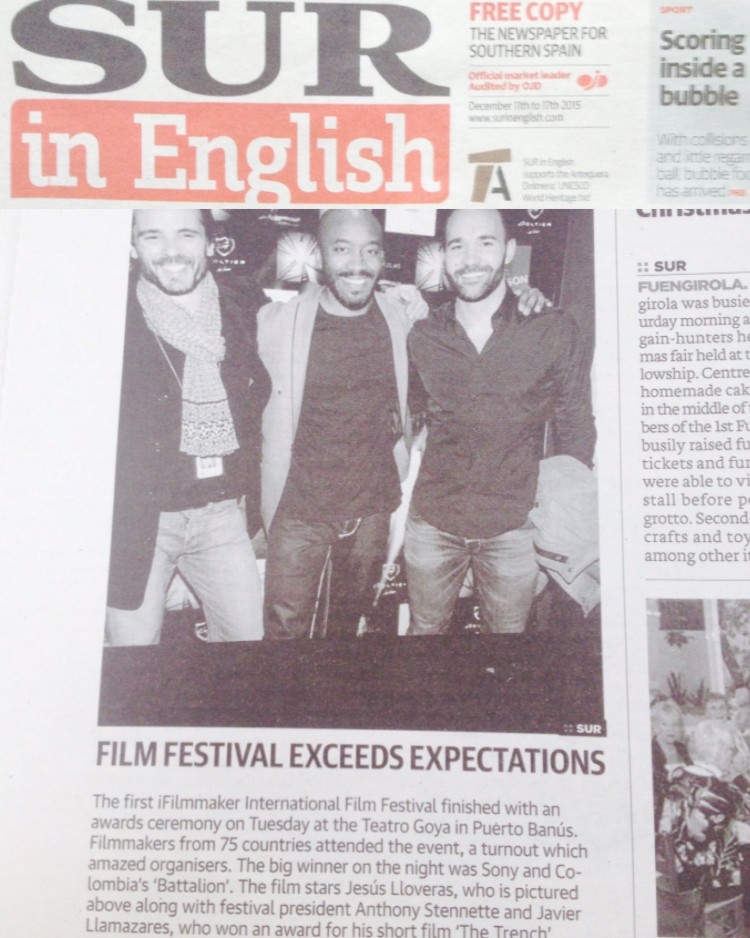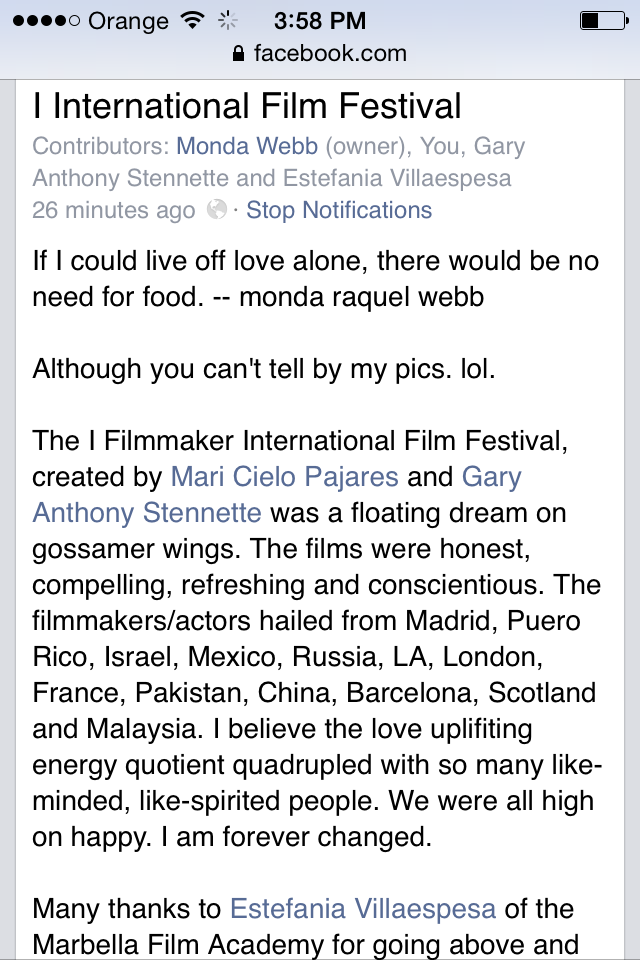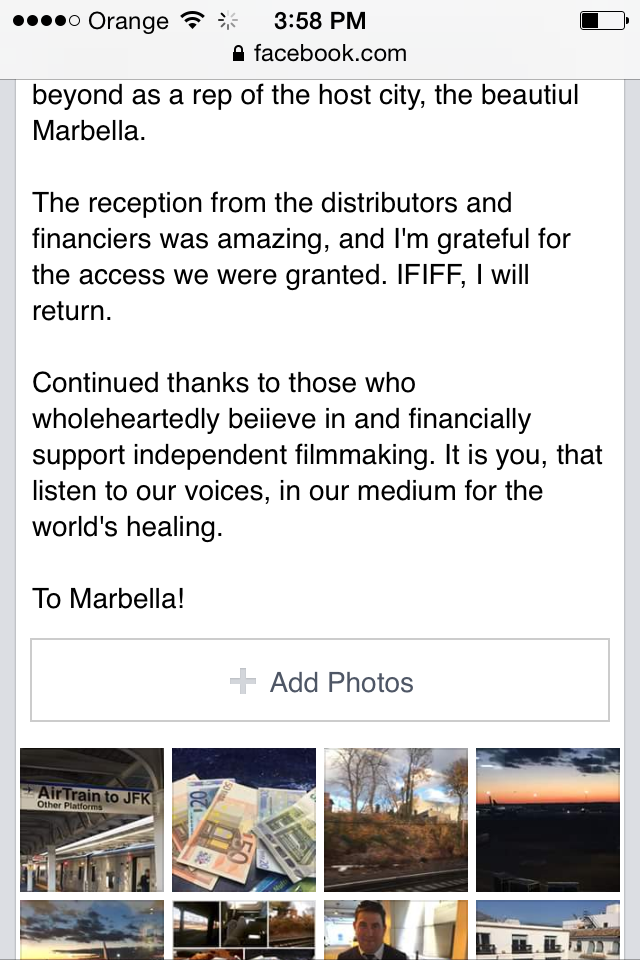 Welcome to the 2016 "i Filmmaker International Film Festival" edition!!!
This information is for all our 2016 attendees:
Our event will take place at our venue, the beautiful Cines Teatro Goya at Puerto Banús, Marbella, Spain, this is the address:
Cines Teatro Goya
Avenida Julio Iglesias, s/n, 29660 Marbella, Málaga
We will hold screenings of our Official Selection the dates 4,5,6 and 7 of December from 9am to 3pm. (We won't have the schedule of the screenings ready until we receive all the DVD's or Blu Rays of your fellow filmmakers. You will find a schedule of them at our partner Hotel San Cristobal and at our venue). This is our partner Hotel San Cristobal address:
Avenida de Ramón y Cajal, 3
29601 Marbella
Malaga, Spain
(You will find an exclusive discount code for our attendees for the hotel,in your acceptance letter if you have ANY trouble booking your room with the discount please contact this e-mail: marketing@hotelsancristobal.com , inform them you are one of our filmmakers and they'll book it for you.)
Please request your badge at the entrance of the venue Cines Teatro Goya at Puerto Banús, our volunteers will provide you with as many badges you need for you and your guests, we have available: iDirector, iProducer, iCast, iCrew, iPress and iVolunteer.
Our Awards Ceremony, Press photocall and Network Cocktail will take place in our venue Cines Teatro Goya at Puerto Banús, Marbella on December 8th at 7pm. (We don't have a dress code, we want you to feel comfortable for YOUR day, so feel free to dress as yourself).
For those of you that want to continue the party we will take you after the Awards Ceremony to a Night Club to party Spanish Style and enjoy a percussion show. We will provide you all the information of our after party in our Awards Ceremony.
Winners of Major Awards and Special Mentions will receive their statuettes and diplomas at the Awards Ceremony.
The screening days we will ONLY screen our Official Selection and ONLY if they have sent a DVD or Blu Ray of their film to address provided at your Filmfreeway acceptance letter.
Once you reach Málaga Airport, you will find a bus in the same terminal you landed that will take you directly to Marbella. You can buy the ticket at the airport or prior in this website:

http://www.avanzabus.com/web/default.aspx

(Remember if you come from the airport to choose MÁLAGA AIRPORT to MARBELLA).
If you reach Málaga by train, you can access the same website and buy the tickets from MÁLAGA to MARBELLA.
The cost of the bus is around 6€.
THE ENTRANCE FOR THE EVENT, SCREENINGS AND AWARDS CEREMONY IT'S FREE, YOU DON'T NEED TO BUY OR REQUEST ANY TICKETS, JUST INFORM OUR VOLUNTEERS WHICH IS YOUR PROJECT AND WHICH BADGES AND HOW MANY YOU NEED. The general audience won't pay either for the screenings. The entire event it's free.
THEY WILL PROVIDE YOU AT THE HOTEL WITH AN EMERGENCY PHONE NUMBER OF THE FESTIVAL. PLEASE DO NOT CALL UNLESS YOU ARE KIDNAP, RAPED, ADDUCTED BY ALIENS OR YOU HAVE A REAL EMERGENCY!!!

WE CAN¨T WAIT TO MEET YOU ALL!!!​​

CONTACT : ifilmmakeriff@gmail.com